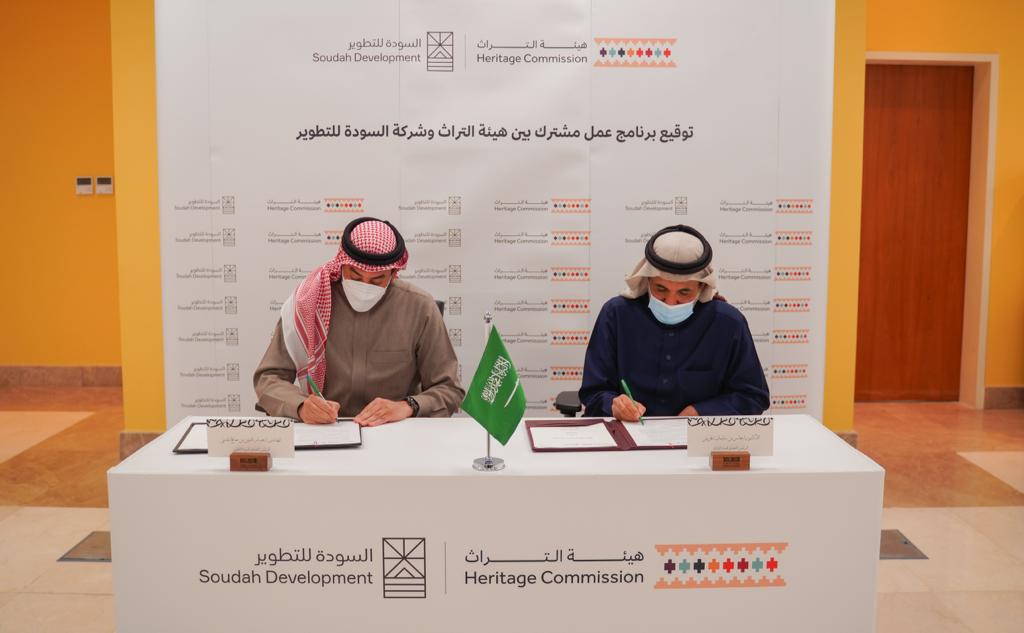 Soudah, Saudi Arabia, 5 January 2022 – Soudah Development, a Public Investment Fund company, signed a joint work program with the Heritage Commission to strengthen cooperation and agree on a framework to carry out archaeological survey and excavations of the project area.
The joint work program was signed by Husameddin AlMadani, CEO of Soudah Development; and Dr. JAseer bin Sulaiman Al-Herbish, CEO of the Heritage Commission at the commission's headquarters in Riyadh.
According to the agreement, Soudah Development will provide financial and logistical support for the survey and excavations, which will last for 180 days and include four phases. The Heritage Commission will be responsible for the technical aspects of the project.
AlMadani said: "In line with the vision of HRH Mohammed bin Salman, Crown Prince and Chairman of Soudah Development, to develop Soudah and parts of Rijal Almaa, we are working to explore and support all possibilities to highlight the importance of the area and achieve the project's goals to attract more than two million visitors each year by 2030.
Dr. Al-Herbish underscored the program's aim to coordinate the effort to implement the project in Soudah in the Aseer region with the help of joint teams that will work throughout the project's implementation plan, which includes multiple comprehensive stages of survey and archaeological excavation in the targeted area.
"The program is part of the Heritage Commission's efforts to develop, protect and manage national heritage, in addition to enhance partnership with government entities and the private sector by supporting relevant initiatives throughout the Kingdom," he said.
The first of the four phases of the project includes presenting the implementation plan and determining human, technical and financial requirements, while the second phase will see the collection and sorting of information, data, maps and images related to archaeological and heritage sites within the project area. In the third phase, a comprehensive documentary survey will be conducted of cultural heritage sites – including archaeological and urban heritage sites and buildings – within the geographical scope of the Soudah project. The fourth phase will witness excavations in specific archaeological sites based on the results of the survey in the previous phase.
To enhance the area's tourism credentials and add more attractions, the joint work program allows Soudah Development to showcase, in coordination with the Heritage Commission, models of artifacts that are being explored, as well as display archaeological assets during important occasions. Soudah Development is a closed joint-stock company, which is wholly owned by the Public Investment Fund. It seeks to develop the Soudah area and parts of Rijal Almaa into a luxury mountain destination accentuated by unique heritage and authentic culture, thus contributing to the development of the Kingdom's tourism sector that promises to create thousands of direct and indirect job opportunities, and contribute to boosting the cumulative GDP by at least SAR 29 billion by 2030.